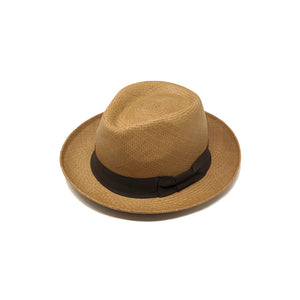 When your summer is filled with events and dinners, it's great to have a handsome hat you know you can wear with anything and everything.
The Urbano Panama Hat completely hand made out of organic and natural Toquilla Palm that is breathable and provides shade and ventilation in the summer months.
It is a  beautiful and special coffee color and matched with a brown grosgrain ribbon. The Urbano has a short crown of 3.74 in and an Upturn brim of 2.5 in.
Handmade in Ecuador, Designed in Puerto Rico.
----
Cuando tu verano está lleno de eventos y cenas, es genial tener un sombrero hermoso que sabe que puede usar con cualquier cosa.
El Sombrero Urbano Panamá completamente hecho a mano con palma de toquilla orgánica y natural que respira y proporciona sombra y ventilación en los meses de verano.
Es un color café hermoso y especial, combinado con una cinta de grosgrain marrón. El Urbano tiene una corona corta de 3.74 pulgadas y un borde de aumento de 2.5 pulgadas.
Hecho a mano en Ecuador, diseñado en Puerto Rico.
--TAB--
Free Returns 30 days from Purchase (Online Purchases Only). Receipt from purchase required.
NO Refunds on In Store Purchases. Only a Store Credit within 30 days of Purchase with Receipt.
Items Sold with a Discount are Non-Refundable.
----
Devolución dentro del los 30 días de compra (Compras por Internet Unicamente). Se requiere el recibo de compra. El gasto de envío no es reembolsable.
NO hay reembolso en las compras en la tienda física. Solo se le dará un crédito de tienda dentro de los 30 días de compra con recibo.
Artículos comprado con descuento No tiene devolución.
--TAB--